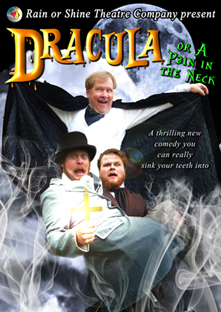 DRACULA is set to visit Severn Valley Country Park on 1st December.
Rain or Shine Theatre Company proudly present a new adaptation of Bram Stoker's famous Gothic fantasy… With a twist!
After their success last winter as 'a delicious mirthfest' with the much celebrated comic version of 'Hound of the Baskervilles', Rain or Shine are dying to bring you yet another Classic novel in their own individual comedic style by raising the stakes by expanding on their new brand of 'Morecambe & Wise-ish comedy' with another season of mystery, mayhem, but above all multi-role madness!
Dracula 1897 : Transylvania… A lone English solicitor makes an ill-fated visit to an important client at a remote and mysterious castle. Soon afterwards, Count Dracula moves to London, where a bizarre plague begins to stalk its inhabitants. Can our intrepid team led by maverick-doctor Professor Abraham Van Helsing prevent the infamous Count from getting his fangs into everyone before his grip over the people of London proves fatal?
An atmospheric tale of maidens in distress, dark nights and vampires is here presented by Rain or Shine as you've never seen it before…promising a fang-tastic evening with lots of bite.
Set in authentic Victorian costume, with a cast of four playing a whole host of characters, Rain or Shine are sure to delight and enchant those new to the tale, and those who already know it.
The tour includes a 'one night only' performance in the Severn Valley Country Park, Alveley on Friday 1st December at 7.00pm. Tickets priced £10, child £6, are available from 01746 781192 or direct from the Rain Or Shine credit card hotline: 0330 660 0541, e-mail tickets@rainorshine.co.uk or online via www.rainorshine.co.uk.