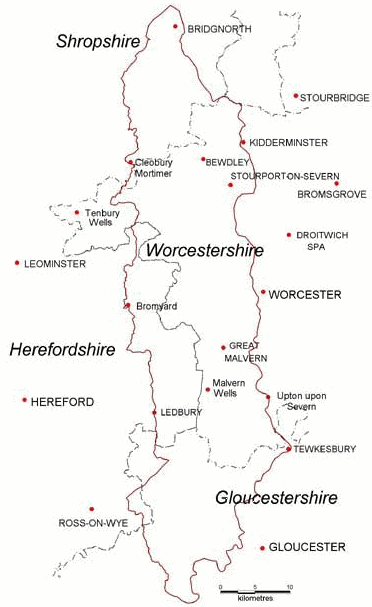 The Geopark covers 1250 square kilometres and takes in parts of the four counties of Gloucestershire, Herefordshire, Shropshire and Worcestershire. The Abberley and Malvern Hills is one of 10 Geoparks in the United Kingdom, globally there are many Geoparks. Like ours, many are driven by local organisations seeking to celebrate their geological heritage and achieve sustainable development through geotourism.
In the Abberley and Malvern Hills Geopark you will find outstanding geology that spans 700 million years of our Earth's history. This, coupled with dramatic landscapes and a wealth of ecological, historical, and cultural gems, makes the Abberley and Malvern Hills a truly unique Geopark.
Our vision is for a Geopark that can be enjoyed by everyone and allows people from all walks of life the opportunity to experience geology and to appreciate the importance of their geological heritage. The Geopark exists to promote excellence in geoconservation and to make a contribution to local economies through sustainable geotourism. So whether you are a resident or a visitor to the Geopark you will find much here of interest.
Each year the member organisations of the Abberley and Malvern Hills Geopark Forum host GeoFest, a three month programme of events and activities highlighting and celebrating the geology, landscape, heritage and wildife of the Geopark. Throughout June, July and August events include walks, talks, exhibitions and children's activities along with 'Ask the Expert' sessions and demonstrations.
So whether you are a resident or a visitor to the Geopark you will find much here of interest. Please explore the website and contact us, we would like to hear your views.
Find out about the Geopark's…
Explore beneath the surface . . . 700 million years of Earth history: one spectacular destination. The rocks tell a fascinating story of continental collisions, shallow tropical seas, hot deserts, tropical swamps, coastal lagoons, ice sheets and polar deserts. These changes in ancient depositional environments have produced the diverse landscapes that can be seen in the Geopark today.

From imposing Iron Age hill forts to the remains of 20th century coal mining… throughout the Geopark you will find evidence of how human activity has shaped our landscape.

The unique landscapes in the Geopark have inspired artists and composers of past and present. Hills and valleys provide the backdrop for past and contemporary cultural events…The Geopark is a place where a range of passions from art to social history may be indulged…

Geology and ecology are inextricably linked. The often intimate relationship between geology and flora is an important factor in understanding the ecology of the Geopark.

To enjoy this rich biodiversity, why not visit one of the many national and local nature reserves or take a peaceful walk through diverse natural landscapes?