Paul Olver – various
After completing his doctorate in geological sciences at Birmingham University where he studied the active volcanoes of Southern Italy, Paul Olver embarked on a teaching career firstly in schools and later in further and adult education. He has taught geology and astronomy throughout that period not only for local authorities but also for the WEA and various universities.
Paul now lives in Herefordshire and continues to teach part-time as well as leading various field excursions throughout the UK and across Europe. The dark skies of Herefordshire have also encouraged him to build his own observatory.
Paul deliver geology courses for the Workers Education Association (WEA) mainly in Herefordshire and for the Teme Valley Geological Society.
Fossil Fuels, Energy and the Environment
9/01/2016 – 01/03/2016

7 sessions for 2 hrs per session

Ewyas Harold Baptist Church Hall

Further details can be found

here
Geohazards – Volcanoes, Earthquakes & Tsunamis
11/02/2016 – 31/03/2016 (excluding 03/03/2016)

Thursdays, 7 sessions for 2hrs per session 

Pu1pil referral Unit opposite Maylite Trading Estate, Martley

Further details can be found here
---
Chris Darmon – Down to Earth
Chris is an award winning educationalist graduated from Hull University with a geology degree in 1974.  Upon graduation Chris undertook a PGCE course at Keele University, which led to a position teaching geology at a Sheffield school. Nowadays Chris continues to work in education as an independent adult tutor.  He also organises and leads geological tours across the UK and also to Iceland and Tenerife. Chris is well known to many for his passion for geotourism and for his communication of geology to the general public. Few people have the breadth of knowledge that he has amassed over the past 35 years. Alongside his geo-education Chris is director of Geosupplies, a specialist supplier to geologists across the world and is editor of Down to Earth a national geological magazine.
Details of the courses being run by Chris in the Geopark (or sometimes close to!) are shown below. Unless otherwise stated, for more information, contact Chris on 0114 2455746 or downtoearth@geosupplies.co.uk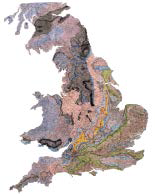 "Time: our most precious asset"
A day school with some local field work to celebrate the Bicentenary of William Smith's first geological map of England & Wales. Hosted by Geopark president and geologist extraordinaire Chris Darmon at the Malvern Hills GeoCentre. 
Price: £25.00 adult, £20.00 under-19 student, including light lunch and refreshments.
"Earth science learning for all"
Abberley & Malvern Hills Geopark
April 29 – May 4 2016

As President of the Abberley & Malvern Hills Geopark, I invite you to come and join me as we explore the varied geology of this part of the Heart of England!
In the Abberley and Malvern Hills Geopark we'll find outstanding geology that spans 700 million years of Earth' history. The story begins with Precambrian igneous and metamorphic rocks and then moves on through sediments of all ages, ending with the Triassic desert sandstones of Bridgnorth. We'll see geology from a steam rain and even animatronic dinosaurs in the Wildlife Safari Park!
We'll stay at the centrally located Great Malvern Hotel where we will get well looked after and be able to sample good local food. This is a great opportunity to explore some of the finest geology in England over the May Day Bank Holiday weekend.
The cost of the 5-night trip is £695.00 per person in a double/twin room and £850.00 for single occupancy.
We expect this trip to book up quickly – so you are advised to contact us soon for a booking form!
Chris Darmon BSc
Course Organiser/Leader
---
Dave Green – Geostudies
Geostudies is run by Dave Green, a self-confessed geological enthusiast, who simply likes to pass it on! He has taught Geology at various levels, from O level to undergraduate, since 1974, at various institutions; secondary schools in Gloucester and Ross, Further Education Colleges in Stroud, Swindon, and the Forest of Dean, the WEA, the Open University and, for the last 12 years, the University of Bristol. He is an all-round geologist, but inclines towards agreeing that he is keener on the "hard rock" side of geology (older sediments, igneous and metamorphic rocks, geological structures etc.) but has a more than passable knowledge of soft rocks and their fossils, and is very interested in Quaternary geology and the development of landforms. It would be fair to describe him as "laid back" and patient in his approach, and keen to make sure that students are grasping ideas in a subject that can sometimes be fairly inaccessible, often due to jargon. Above all he is enthusiastic about the subject, something that he hopes will rub off!
Details of the courses being run by Dave in the Geopark and further afield download his 2015 -2016 programme. Unless otherwise stated, for more information, contact Dave on 01594 860 858 or dave@geostudies.freeserve.co.uk.