We're pleased to present GeoFest 2022. For more details check with the venue. Events are free unless stated, although normal admission charges (if applicable) may apply. Keep checking the calendar on www.geopark.org.uk and our Facebook page for lots more events and latest news.
You can also download our GeoFest leaflet.
Thank you to Merlin Energy, The Tomlinson-Brown Trust and the Curry Fund (of the Geologists Association)
Throughout GeoFest
Geology Trails
Free trail leaflets at Wyre Forest, NT Dudmaston, Bewdley Museum, , Severn Valley Railway and Arley Arboretum.
Cappuccino Geology Trails
Combine a cup of coffee and geology trail at Severn Valley Railway (King & Castle pub and Kidderminster café), Severn Valley Country Park, Arley Arboretum, Bewdley museum, cob House Countryside Park, Malvern hills geoCentre, Worcester Cathedral and NT Dudmaston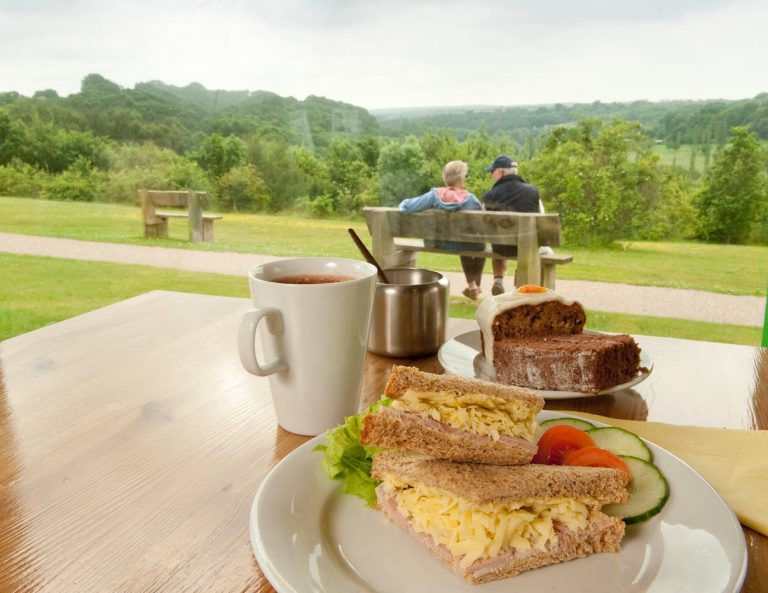 Saturdays 9:00am
A free, fun, and friendly weekly 5k community event. Walk, jog, run, volunteer or spectate – it's up to you!
Worcester Cathedral
Tours Monday – Saturday: 11am and 2.30pm Tours £7 each
Every week Wednesday – Sunday
The Severn Valley Railway is the perfect way to travel on a steam train in the West Midlands.
Geology & Landscape Trails
Check out our website www.geopark.org.uk for details of trails. Leaflets can also be picked up from many of the partner venues. A new geology trail booklet – the Les Morris Memorial Trail – will be available at most events. This is a driving trail across the whole of the Geopark which can be completed in small stages if desired.
Events
6th June and 4th July
Join us for a guided tour of the Museum. Free
Curator Talk: The Great Outdoors at Hartlebury Castle
Tue 7 June : 11.00 am – 1.30 pm
Collections Centre Store Tour: The Great Outdoors Join our Vardo Curator and Social History Curator to look at Worcestershire's two intertwined transport collections – the Agricultural collection and the beautiful Gypsy Vardo collection. This event takes place across two sites, starting at Worcestershire County Museum
Rocks, Fossils and Landscapes at SVR Kidderminster
11th & 12th June and 15th to 19th June
Geologists in the Geopark will bring along a display about the Geopark and its rocks, fossils and landscapes.  The display will run until 19th June. There are free leaflets and a trail guide about geology on the train. And there is a rock and fossil quiz to test your knowledge. Free entry to the display.
Heartbreak Productions presents Awful Auntie at Bewdley Museum
12 June at 5pm
Awful Auntie by David Walliams, adapted for the outdoor stage by Heartbreak Productions. Watch Stella's as she evades her menacing Aunt and saves the family home.
£14 per adult ticket and £9 per child ticket
West Midlands Regional Group – Old Dudley Museum – Field Trip
Wednesday 15th June 2022
Field Trip to visit Building Stones and Landscapes of Dudley
Book here: Building Stones and Landscapes of Dudley
Saturday 18th June 2022
Includes family day of geo-crafts, especially Carboniferous flora and fauna!
Explore Archives – Searching For People at The Hive, Worcester
Thu 23rd June 10am-12pm  £6
A workshop from Worcs Archive & Archaeology Service about the various sources and indexes which can be used for looking for information about people..
Tapas and String of Roses at Bewdley Museum
Friday 24 June 6.30pm-8.30pm
Tapas with live evening entertainment from the String of Rose in the Garden Kitchen.
Adults £16 per person and Child £7 per person
National Trust – Dudmaston Estate – Hart of the Wood
25th June
Visit Comer Woods on 25 June for a day of folk art and culture, exploring humanity's relationship with the woods.
Free event but admission charges £12 Adult, £6 Child
National Trust – Dudmaston Estate – Meet Dudmaston's Head Gardener
26th June
Find out about the Spring blooms and blossoms in Dudmaston's spectacular gardens with a Q&A with our Head Gardener.
£3 for event plus admission charges £12 Adult, £6 Child
Booking needed – For booking details call 0344 249 1895
July & August (various dates) 01746 781 192
2 July
Celebrating 50 years of Bewdley Museum including New Bronze age exhibition, with entertainment throughout the day.
Herefordshire Hoard Events – Leominster Community Centre
Saturday 2 July, 11am to 3pm
The Hub at St Peter's (Peterchurch), Saturday 23 July, 11am to 3pm
Come along to one of our community events taking place throughout the county from May to July to find out more about the Herefordshire Hoard, a Viking treasure hoard found near Leominster in 2015.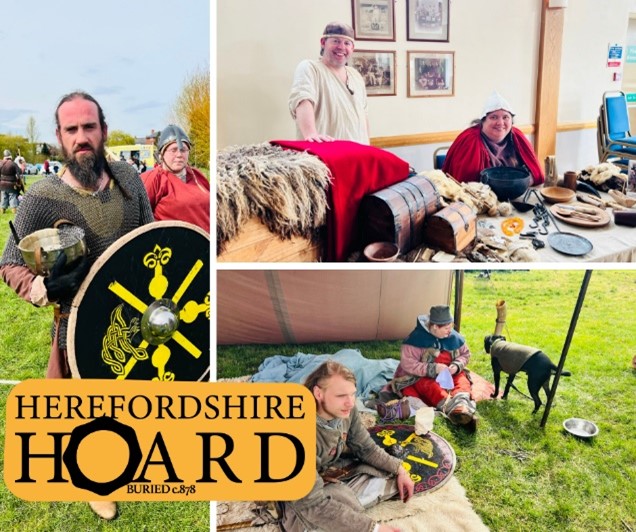 Dinosaur Detective Trail  at Severn Valley Railway, Engine House
July 9th and 10th
Dinosaur Detective Trail and geology packs for children
The Tale of Peter Rabbit and Benjamin Bunny – Outdoor Theatre at Hartlebury Castle
Fri 15 July : 6.30 pm
The Tale of Peter Rabbit and Benjamin Bunny Peter Rabbit and his naughty cousin Benjamin know very well that they are not to go into Mr McGregor's garden, but they cannot resist and soon they find themselves face to face Mr McGregor himself! But how will they ever escape?
Sat 16th July 10am-4pm  Free
Come along to meet various heritage organisations, museums and societies. There will also be talks, film screenings, demonstrations, and a sandpit excavation for children. Just drop in throughout the day. Includes geopark and geology displays.
16 July and 28th August
Late night opening at the Garden Kitchen with live entertainment!
23 and 24 July
Cherry Fair and 1940s weekend featuring Kevin Mac, Wyre Forest Big Band and craft fair
25 July – 2 September
Children's summer holiday craft activities
Don your detective cap and join Heartbreak Productions for some super silliness this summer. Our original murder mystery will set five suspects under the spotlight, and we will depend on the audience to find answers.
£14 per adult ticket and £9 per child ticket
Wednesday 3 August 2022
Families with children age 3-13 years are invited to come along and meet our friendly team at this wonderful location on the river Severn
led by Severn Rivers Trust
Free for families – limited spots
Saturday 6th – Sunday 7th August
Our festival of transport brings together the best of vintage vehicles throughout the ages for one bumper weekend across the full length of the line.
£25 per adult ticket, £16.50 per child ticket. Prices may vary for short trips.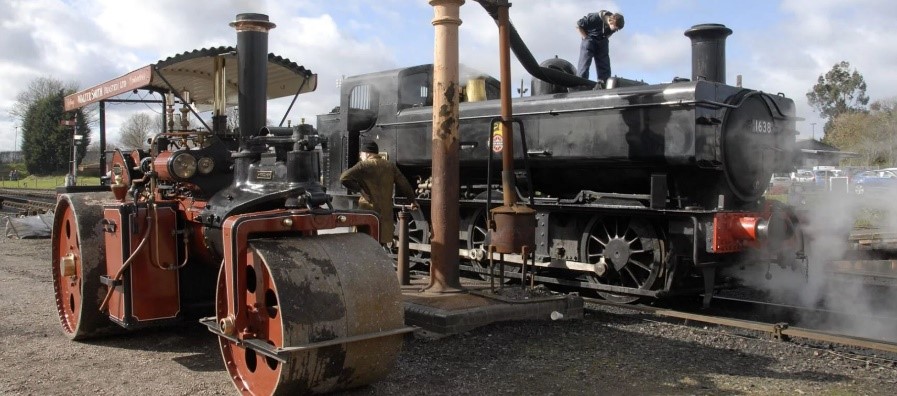 Sunday 7 August 2022
Wednesday 10th August 2022 and Wednesday 26th October 2022
Discover how we look for and record signs of river wildlife in different habitats and learn about amazing river creatures.
Free for families – limited spots
Saturday 10th August
Geo-crafts day plus table top displays
Rain or Shine Theatre Company – The Recruiting Officer at Severn Valley Country Park
Friday 12 August 2022
Gates 6.30pm, Performance 7.30pm
One of the most popular plays of its time, this is a delightful romp through 18th Century Shrewsbury written by Mr. George Farquhar.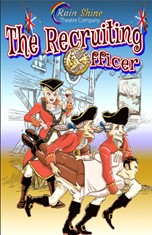 Geology Crafts at Severn Valley Country Park
Wednesday 17th August 2022
Geologists in the geopark present a Carboniferous flora and fauna display
Fri 26 August : 7.00 pm
Cinderella – Outdoor Theatre In an enchanted kingdom in a faraway land magical creatures and fairy godmothers come together to tell the best loved of all fairytales. Full of song, mirth, and joy for the summer ahead, join us on Cinderella's journey of a lifetime to a magical ball!
Sun 28 August : 8.00 pm
21st Century ABBA You can dance, you can jive, having the time of your life! Following on from last year's sell out shows, this is an evening of hit after hit with songs you know and love including Waterloo, Mamma Mia, Take a Chance on Me, Super Trouper and many, many more.
Exhibitions
The Geology, Landscape and Building Stones of the Severn Valley Railway – Engine House, Highley
A display of photos with geological interpretations throughout GeoFest
Saturday 28 May – Monday 29 August
So, you think you know the Vikings? Separate the fact from the fiction in this myth-busting exhibition, from The JORVIK Group.
Date: Friday 1st April (10:00) – Wednesday 31st August (17:00)
Location: Lapworth Museum of Geology – Earth Sciences Building (R4 on campus map)
Three visual artists Pauline Bailey, Joyce Treasure and Ola Brown have been involved in a collaborative artist residency to explore the Lapworth Museum's collection of fossils, rocks and minerals.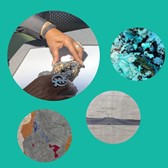 Date: Wednesday 6th April (10:00) – Wednesday 31st August (17:00)
Location: Lapworth Museum of Geology – Earth Sciences Building (R4 on campus map)
An exhibition of drawings and watercolours inspired by the Lapworth Museum collections by Phillip Richardson.
July & August
August
Worcester Cathedral – 'Fossils in the Geopark'
Throughout August
Travel back millions of years this with the Fossils in the Geopark exhibition. Throughout August Worcester Cathedral will be exhibiting in the South Cloister a display of fossil specimens and exhibition posters entitled "Fossils in the Geopark" created by Geologists in the Geopark. As part of the exhibition there will be a display of specimens from the Lapworth Museum and further information leaflets to accompany the exhibition. And for our younger geologists we will have detective trails to explore the geology in the Cathedral as well as other activities.

 GeoFest is sponsored by

We acknowledge the assistance of Merlin Energy; The Curry Fund of the Geologists' Association; and the Tomlinson Brown Trust. GeoFest could not run without the support of these organisations.
Out and About in GeoFest at Geopark Visitor Centres
Our partner venues are well worth visiting throughout the summer. For general enquiries please email amhg@outlook.com
Bewdley Museum, Load Street, Bewdley, DY12 2AE www.bewdleymuseum.co.uk
Open 10am-4:30pm
Free
Cob House Country Park, Wichenford, Worcester WR6 6YD      www.cobhouse.org
The Mayfly Cafe – Open 8am to 4pm everyday.
The Park grounds and Animals – Open
Hartlebury Castle Preservation Trust, Hartlebury, Worcestershire, DY11 7XZ
Tue-Fri 10am-5pm, Sat-Sun & Bank Holidays 11am-5pm
Hartlebury Castle, Worcestershire County Museum and Old Moat Coppice nature trail.
Admission charges apply https://hartleburycastle.com/
Hereford Museum & Art Gallery, Broad Street, Hereford HR4 9AU www.herefordshire.gov.uk/museums
Tue-Fri 10-4 & Sat 10-12:30
Free
Lapworth Museum of Geology, University of Birmingham, Birmingham, B15 2TT www.birmingham.ac.uk/facilities/lapworth-museum/index.aspx
Tue-Fri 10am-4pm, Sat 12-5pm,
Malvern Hills GeoCentre, Walwyn Rd, Upper Colwall, Malvern WR13 6PL www.geocentre.co.uk
Cafe H2O:  Mon, Tue, Thur & Fri 10am – 3pm
National Trust
Severn Valley Country Park, Alveley, Bridgnorth WV15 6NG www.shropshiresgreatoutdoors.co.uk/site/severn-valley-country-park
Severn Valley Railway www.svr.co.uk
Worcester Cathedral, Worcester WR1 2LA www.worcestercathedral.co.uk
Mon – Sat 10am – 5pm & Sun 1-3pm for visitors
Worcestershire Archive & Archaeology Service, The Hive, Worcester, WR1 3PD  www.explorethepast.co.uk
Wyre Forest Centre, DY14 9XQ  www.forestryengland.uk/wyre-forest