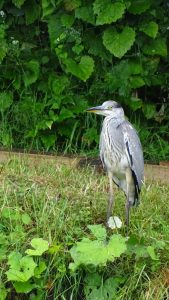 If you have ever wanted to know more about the valuable work Cuan Wildlife Rescue do, then join Shropshire Council rangers at Severn Valley Country Park on Thursday 8th February. Members of the Cuan Wildlife Rescue team will be on site to give an illustrated talk about the varied work they do.
Cuan Wildlife Rescue take in sick, injured or orphaned wild animals and birds, with the aim of nursing them back to health and releasing them back into the wild. In fact, great emphasis is placed on returning the animals to the area they were found to ensure they are back in familiar hunting ground and on their own territory.
Annually over 2,500 animals and birds are admitted to the centre which means Cuan Wildlife Rescue need to raise £100,000 each year for day-to-day running costs. As a registered charity, they are dependent on donations from the public and businesses. The money raised goes towards staff costs, medical treatment and supplies, food, bedding, transport, heating, lighting and more. In addition to this they are the only rescue centre in Shropshire which offers round the clock service
Visitor centre manager Susie Comaish says, 'Cuan Wildlife Rescue recently helped us when an injured Tawny owl was found on one of our meadows. After spending 4 weeks at the rescue centre, the owl was successfully returned to the park and released in the same area it had been found. We are happy to
be able to give our visitors the change to learn more about the work Cuan Wildlife Rescue do.'
The talk will be held in the visitor centre at Severn Valley Country Park on Thursday 8th February 2018, 7.30pm-9pm. Adults £3.00, Child £2.00. Price includes hot drink and biscuits. Please call 01746 781 192 to book your place to find out more about this great organisation.