Can you imagine mammoths roaming Herefordshire? Or a landscape on the edge of a massive ice sheet? How long did the Ice Age last and did people live here? Come and find the answers, discover the stories about King Arthur's Cave and meet a life size mammoth model. Plenty for the family to explore including a child friendly science lab, making a cave painting, dressing up as wolf or reindeer, and helping to create a baby woolly mammoth!
Did you know at it's height the ice sheet during the last ice age was at least twice the height of the Cathedral tower, and may have been as deep as 180m – over 3 times as high as the tower?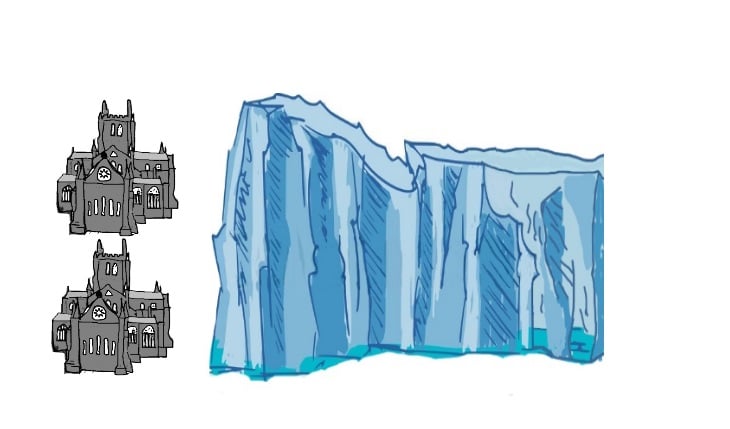 Ice Age Herefordshire, curated by Herefordshire Museum Service will be at Hereford Museum & Art Gallery until 28 November 2020.
The exhibition is free but we suggest a donation of £2.50.
Hereford Museum and Art Gallery is open Tuesday and Wednesday 1pm to 4pm and Thursday, Friday and Saturday 10am to 1pm. Extended half-term opening times – Tuesday 27 October and Wednesday 28 October, 10am to 4pm.
Strict social distancing measures are in place at this venue. Learn more.

An exhibition developed by Worcester Museums has been recreated here with a Herefordshire focus. It features the bones of extinct animals, animals that survived the Pleistocene Ice Age, and artefacts made by early humans. It outlines the geology and landscape of Ice Age Herefordshire and beyond, including investigating the remains of Herefordshire's Ice Age Ponds. Artwork created by students at Hereford College of Arts brings things up to date with their exploration of the meaning and effect of modern day Climate Change.
Suggested donations of £2.50