Join us in the Geopark at one of the visitor centres, where there's plenty to do for the family.
As well as the usual fantastic visits and spaces, many of our Geopark Forum members have special events for families over the holidays.
Bewdley Museum, Severn Valley Country Park, Hartlebury Castle and Worcester Cathedral have lots of exciting craft activities and activities to do.
Worcester Cathedral have free 'Back to the Charter' activities on various dates throughout the holidays. There is also the chance to have a go at a Civil war pike drill on 16, 18 and 20 August 11am and 1pm.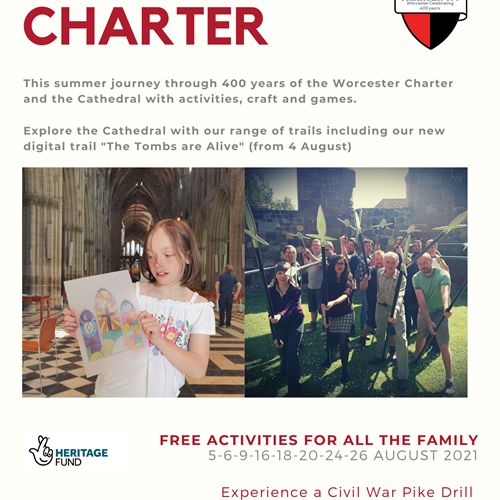 Hartlebury Castle have Summer Fun each week Tuesday to Thursday. There will be fun hands on craft activities. Week one is Gypsy caravans, followed by nature, creating dinosaurs and crafty pirates. Usual ad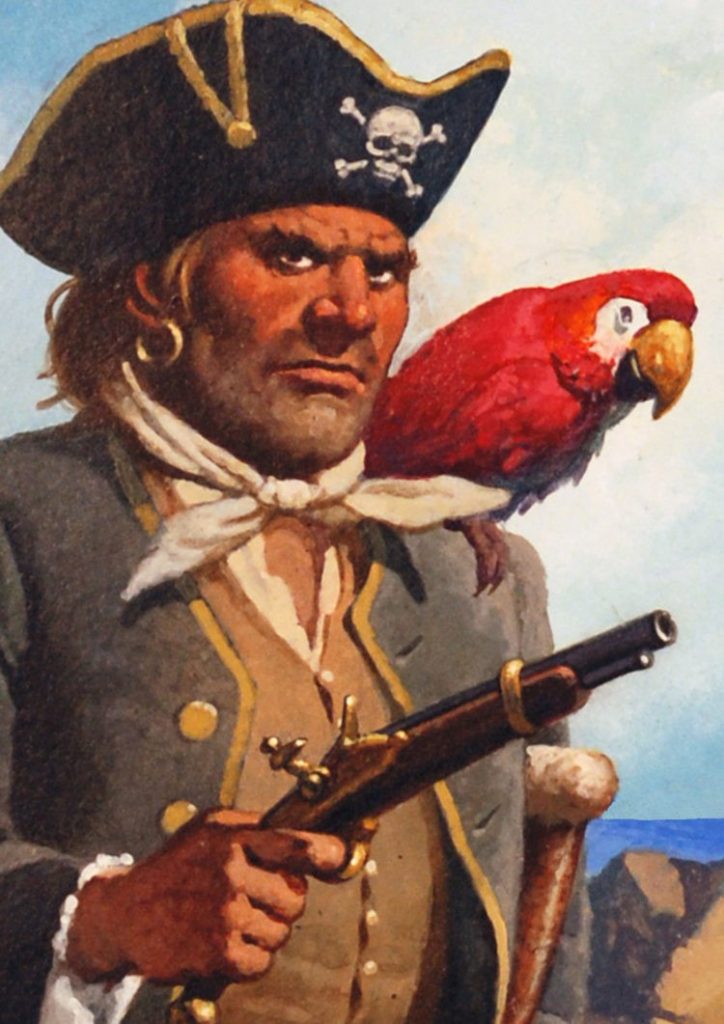 mission applies, with £2 per activity. They also have a bat walk on sat 31st July. The holidays end with a performance of Treasure Island on Sun 29 August, followed by a Swashbuckling Bank Holiday  Monday – Join Captain Sharkbreath and his First Mate Ruby Cutlass to learn how to talk like a pirate, all about cannon drills and hear some pirate tales in our Swashbuckle Sessions.
Severn Valley Country Park have bug hunts, crafts, orienteering and den building with their Rangers on various dates. £2 each, booking required.
Bewdley Museum have crafts each Tuesday, Wednesday and Thursday, with different crafts each day including Viking shields, photo frames, superhero capes and bird feeders. Each cost £5 and need to be booked in advance.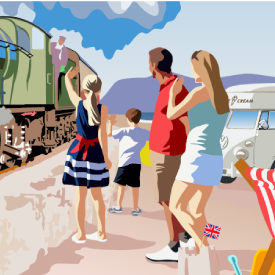 The Great British Staycation is running this summer at Severn Valley Railway
Sunshine, the taste of ice cream, the feel of sand between your toes, the sounds of Punch and Judy, donkeys trotting on the beach and steam train adventures – the Great British Staycation returns to the Severn Valley Railway. From July 17th to September 5th, there's so much to do for children of all ages, harking back to summer holidays from years gone by.
Alongside your journey, there'll be a variety of interactive activities throughout the whole summer at The Engine House, including: A HUGE indoor beach every day, a giant deckchair, free Donkey Rides (every Monday starting 2nd August), Free interactive yellow-coat summer stage shows (every Tuesday from July 27th), Free Punch & Judy Shows (every Wednesday), Free Crazy Golf (every Thursday)
If you are looking for events at home then Lapworth Museum have events on Zoom each Wednesday. Ichthyosaur Jigsaw, Mammoth Fun, Family Fun day and a Quiz are some of the sessions. There will also be an Insect Safari on the University of Birmingham's campus on 25th August.

Dudmaston will have traditional outdoor games out to play, plus a sheet with ideas of activities to do whilst you are visiting. Brockhampton will also have cards with nature-based activities to have a go at.
If you're looking for trails then Arley Arboretum have a choice of a fairy door or wildlife trail you can enjoy the tranquility of the Arboretum whilst the kids follow their clues.
Coupled with a maze, play area and lots of nooks and crannies to explore the Arboretum is a kids paradise! Visits need to be booked in advance.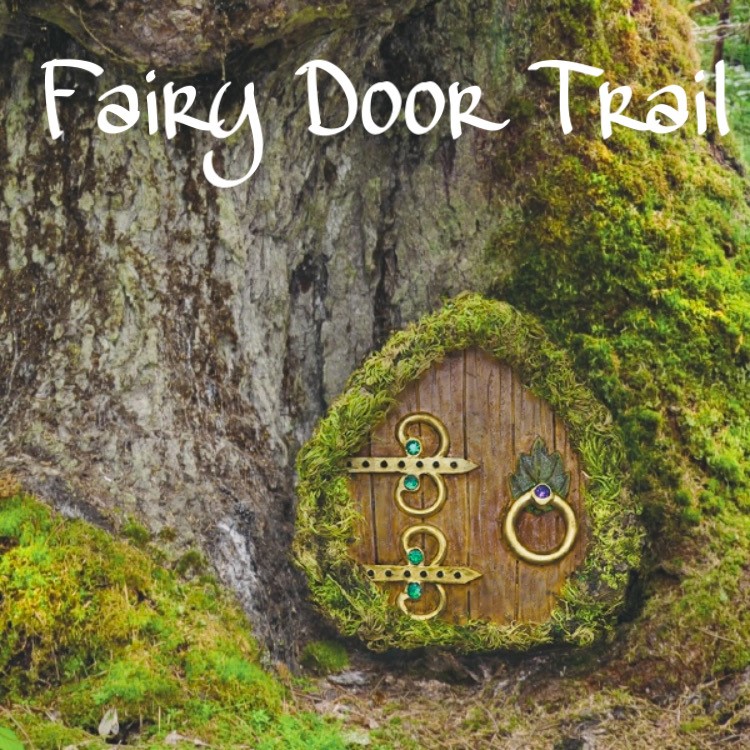 There's another chance to have a go at being an archaeology with an Archaeology Quest at The Hive. Worcestershire Archive & Archaeology are running their popular event on Fri 30 July. It's free, but booking required.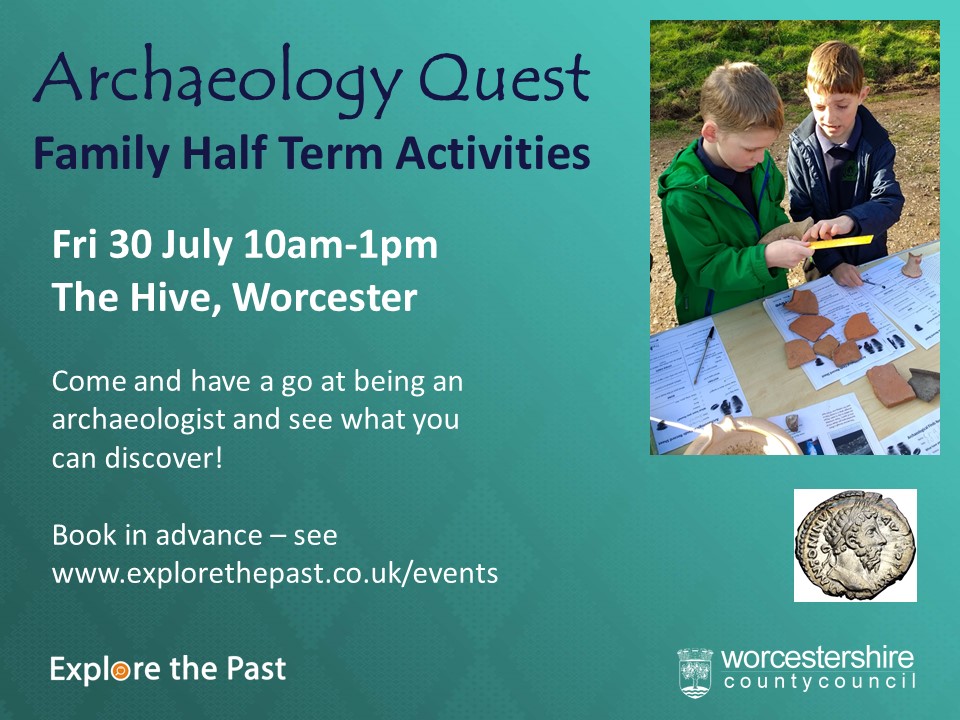 The visitor centres are also well worth visiting in their own right, and plenty of space where you can get out and explore and run off energy. Cob House, Arley Arboretum, NT Croome, Wyre Forest and other places are great for a day out.
Check out details before visiting, as details can change, especially at present time!  You can also check out the GeoFest pages for even more suggestions!

Thank you to Merlin for sponsoring GeoFest